Welcome to the parish family of Madonna del Sasso!

We are delighted that you have decided to belong to this spiritual family.
We are the Pro-Cathedral of the Diocese of Monterey,
"A faith family ministering to the needs of all its members."

Madonna del Sasso parish was created in 1959
to meet the needs of the growing population of North Salinas.
It was named after the Madonna del Sasso, "Our Lady of the Rock" in Locarno, Switzerland
and is the special devotion of Swiss – Italian Catholics.

This parish is home to over 3,000 families who share diverse cultures and a rich heritage.
We see ourselves as a vibrant and loving community, with various active ministries.

The doors of our church and our hearts are always open.
We hope that you will not only find a spiritual home here but also God's peace and love.

Please feel free to call me so that I can meet you in person
or feel free to introduce yourself and your family after one of the weekend Masses.
Our parish staff and volunteers along with my brother priests
will be of assistance to you and to your family.

If you would like to volunteer for any of our ministries,
or if we can help you in any way,
please do not hesitate to contact us at (831)422-5323.
Rev. Greg Sandman
Pastor of Madonna del Sasso Church

Rev. Miguel Aguayo
Parochial Vicar of Madonna del Sasso Church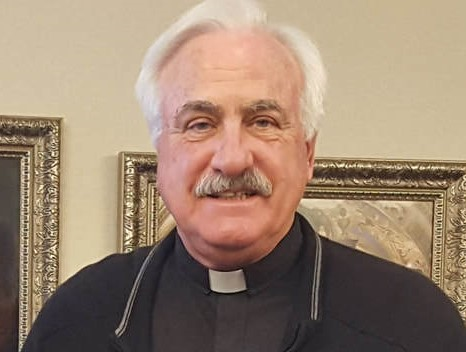 Father Greg Sandman
Madonna del Sasso Church
320 E. Laurel Dr.
Salinas, CA 93906

Phone: (831) 422-5323
Fax: (831) 422-0536

Office Hours; Monday - Friday: 9:00AM-6:00PM
info@mdschurch.org

MASS TIMES
SUNDAY:
10:30 AM English Live Stream
12:30 PM Spanish Live Stream
MON - FRI: 8:15 AM Live Stream
1ST FRIDAY: 7:00 PM Live Stream